Today a couple of plugs for some stuff I want to make sure every reader of Cartoon Research is aware of. First and foremost, the upcoming DVD and blu-ray of POPEYE THE SAILOR: The 1940s Vol. 2.
Although I've already plugged this on my various Facebook pages and on Animation Scoop, I've had several readers suggest I plug it here for maximum exposure. I can't deny that's a good idea – and it's the absolute truth that the sales of each volume make possible the next volumes of this series – not to mention the distinct possibility of further sets of still unreleased, still-unrestored material from Warner Bros. deep vaults.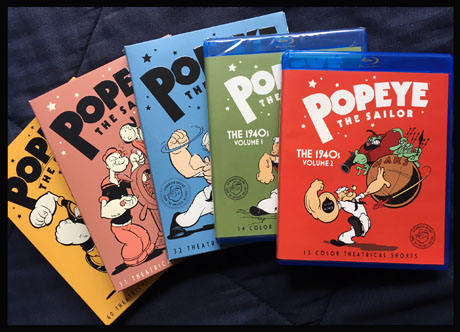 So, with that in mind, Warner Archive Collection is releasing on June 18th the second set of restored 1940s Paramount Famous Studios Popeye cartoons – this time collecting the sailor's earliest Technicolor and Cinecolor films. Yes, on both DVD and blu ray (sold separately) for the first time ever on home media. Transferred from the original negatives, complete and uncut; check out the frame grabs below for a sneak peek at the picture quality. If this looks good to you, pre-order it now for delivery this month – It'll be a perfect centerpiece to your Fourth Of July Festivities.
This is classic animation at its finest – featuring zany cartoon action from the pens of veteran animators Jim Tyer, John Gentilella, Dave Tendlar, Marty Taras, as well powerfully dynamic direction from (Disney) animation legend Bill Tytla.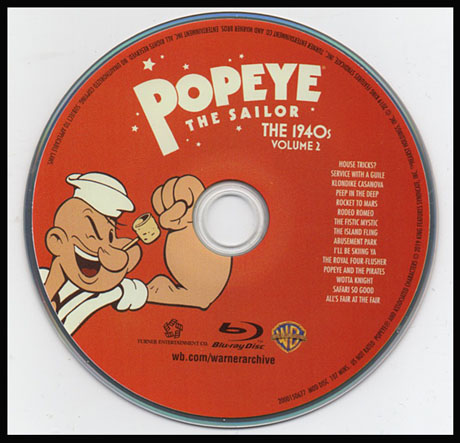 The collection includes: House Tricks, Service With A Guile, Klondike Casanova, Peep In The Deep, Rocket To Mars, Rodeo Romeo, Fistic Mystic, The Island Fling, Abusement Park, I'll Be Skiing You, Popeye and The Pirates, The Royal Floor Flusher, Wotta Knight, Safari So Good, All's Fair At The Fair. Here is a comparison of a previously existing TV print versus the new restoration on the disc: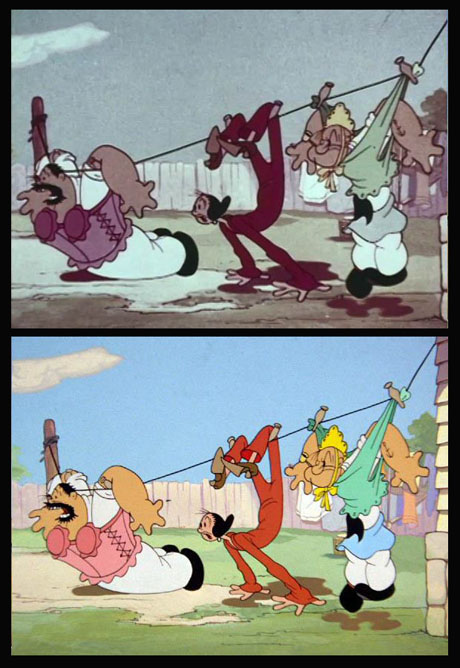 Here are a few more random frame grabs for your enjoyment: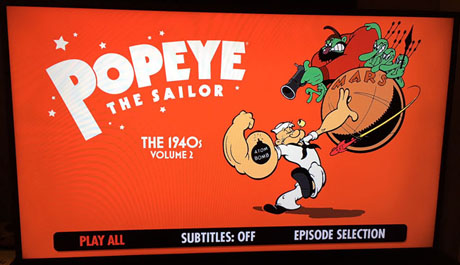 Popeye the Sailor: The 1940s volume 2 is intended for the Adult Collector and May Not Be Suitable for Children.
---
SCREENINGS:
Now you can attend unauthorized Cartoon Research screenings every month – if you happen to live in New York or Los Angeles!
In L.A. – Yours truly Jerry Beck hosts a monthly gathering of the classic cartoon faithful at a Saturday morning screening. CARTOON CLUB meets at 10am, every second Saturday of the month, at the New Beverly Cinema (on Beverly Blvd. near LaBrea in Hollywood). We show a themed selection of classic Hollywood cartoons in 35mm on the big screen – the next one on July 13th is an "All I.B. Techicolor" cartoon show. You don't want to miss it.
In New York – Tommy Jose Stathes reigns over his CARTOON CARNIVAL screenings each month at various locations in Brooklyn NY. The next one is themed around food, with the title of "Good Eats!" and will be screened on Thursday July 18th (6pm at Club Sourdough, 57 Conselyea Street in Brooklyn). Check here for more details. Tommy's shows feature incredibly rare 16mm prints of silent and sound, color and black & white, prints from Stathes own "Cartoons-On-Film" Archive. And Tommy sells rare cool stuff for collectors (and fun stuff for non-collectors). Don't miss this communal live-and-in person experience!
---
COMICS:
And last, but not least, The Adventures of Biffle and Shooster! You've heard of Biffle & Shooster, haven't you? They were a popular American comedy team back in the 1930s and 40s… sort of; like Columbia's Fox & Crow, they were big enough to star a series of (live action) comedy shorts (now available via Kino Lorber Video) and like the Fox & Crow, they are completely forgotten today. Also like the Fox & Crow they star in their own comic books.
The comics – there are three issues thus far – are hilarious. Written by Will Ryan and Mike Kazaleh, and drawn entirely by Mike Kazaleh (with an occasional Elmo Aardvark appearance by Milton Knight), are a must-have if you love vintage comic books (especially if you are into DC's Dean Martin/Jerry Lewis and Bob Hope humor-type books).
You won't find these in comic shops or on Amazon – they are collector's items! – but we've located a few rare issues on eBay. Click here for issue one, issue two and issue three. Need we say more?