Saturday mornings were a hallowed place for kids. For four to five hours, we had a respite from the weekly "grind" that the school week seemed to be. And, while our parents would dare to sleep in and we would avoid having to mow the lawn, we could pour ourselves a bowl of sugar that disguised itself as cereal and settle down in front of the TV. There, cartoon characters who had become like friends that would stop by each week, would return for a visit. Saturday morning cartoons were once a popular segment of television programming unto itself.
As we began a new decade of the eighties, these cartoons continued strongly after several decades of immense popularity. Now, in part two of a three-part article, here is a trip back in time forty years ago to "throwback" to the cartoons that debuted that season.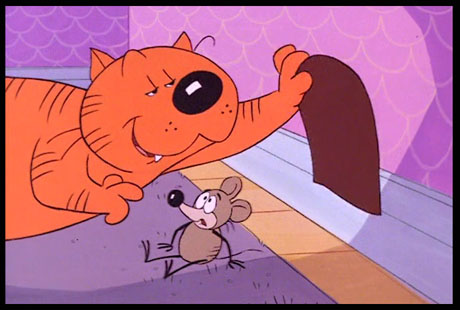 As we left a summer in which Indiana Jones ruled movie theaters in his first adventure with Raiders of the Lost Ark and Dallas reigned over the prime-time airwaves, here are the cartoons that premiered in September of 1981:
ABC
The newspaper comics-inspired ABC this season. Heathcliff, the trouble-making cat, had debuted with his show the year before (Heathcliffe and Dingbat) but partnered with another comic favorite for Heathcliff and Marmaduke in 1981. On the show, Heathcliff cartoons were alternated with those featuring the clumsy but well-meaning Great Dane, Marmaduke. Produced by Ruby-Spears, the show featured a wealth of veteran voice acting talent, including Mel Blanc, June Foray, Don Messick, Frank Welker, and Paul Winchell. As if that wasn't enough, Scatman Crothers sang the show's theme song.
Ruby-Spears also introduced Goldie Gold and Action Jack in 1981 on ABC. An animated take on such live-action prime-time shows as Charlie's Angels and Hart to Hart, Goldie was one of the world's richest women and an heiress who owned a newspaper. Jack was a reporter for the newspaper that she owned. The two, with Goldie's dog, Nugget, would span the world looking for adventure.
There was exciting narration over the globe-trotting scenes in the show's opening ("By land, by sea, by the seat of their pants!…"). Unfortunately, Goldie Gold and Action Jack's adventures didn't last the entire season, and sadly, the show was canceled in December.
Hanna-Barbera brought us Laverne & Shirley, in the Army, (also known simply as Laverne & Shirley) continuing a long-standing tradition of adapting prime-time series for Saturday morning animation. The year prior, ABC and Hanna-Barbera had success with the animated The Fonz and the Happy Days Gang, so bringing Laverne and Shirley into the Saturday morning fold was a no-brainer.
Penny Marshall and Cindy Williams provided the voices for their animated counterparts, and there were some very cartoony elements, including adventures with a UFO and their commander, Sgt. Squealy, who was a pig (you read that correctly).
---
CBS
Animation legend Tex Avery returned to the medium on CBS in the fall of 1981 with The Kwicky Koala Show. Sadly, it represents Avery's final work, as he passed away in 1980 while the show was in production.
He created the show for his former MGM peers, William Hanna and Joseph Barbera, and The Kwicky Koala Show harkens back to those days of the classic cartoons, as it's comprised of shorts starring a variety of characters. Kwicky, for example, seemed like a descendant of Droopy Dog, and another of the characters, the wildcat Crazy Claws, seemed a lot like Screwy Squirrel. There were also the Bungle Brothers, dogs who were like vaudeville performers, and Dirty Dawg, who tries to stay two steps ahead of police officer bullhorn.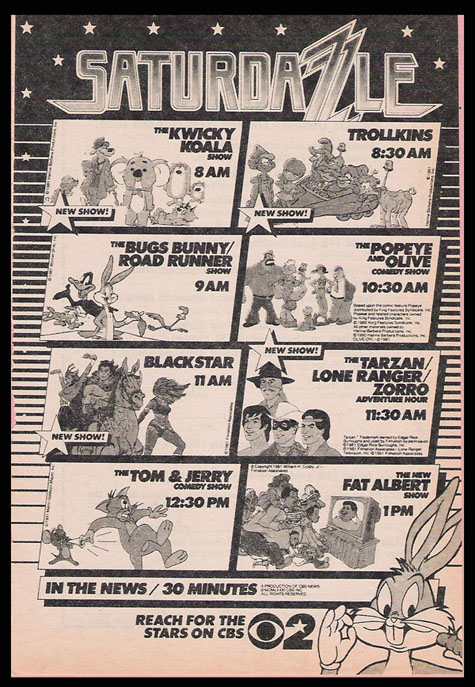 Hanna-Barbera also produced The Trollkins this season on CBS. The show revolved around the titular, diminutive characters, a village of trolls, in a tree dubbed Trolltown. Ironically, the show seemed to be a direct response to The Smurfs, who were immensely popular at this time and also produced by Hanna-Barbera, airing at the same time slot over on NBC.
For adventure, Blackstar was produced by the Filmation Studio, which debuted in September of 1981. The science-fiction series revolved around astronaut John Blackstar. He travels through a black hole and is stranded on the planet Sagar, where he must protect the dwarf-like residents, the Trobbits, against the Evil Overlord.
The show, unfortunately, never connected with audiences and lasted only half a season. Filmation would have to wait two more years to tap into a similar audience with the massive hit He-Man and the Masters of the Universe.
Filmation also introduced The Tarzan/Lone Ranger/Zorro Adventure Hour in 1981. Animated adventures of Tarzan and The Lone Ranger had already been airing since 1980, but this season added author Johnston McCulley's pulp fiction hero Zorro (brought to live-action life by Disney in the '60s) to this show.
---
NBC
Long before there was a Marvel Cinematic Universe, there was Spider-Man and His Amazing Friends. Debuting on NBC in the fall of 1981 and produced by Marvel Productions, the show focused on the famous web-slinger, along with his fellow superheroes, Iceman and Firestar.
And, long before there was a DC Cinematic Universe, there was The Kid Super Power Hour with Shazam. From Filmation ,came this show about a group of teenage superheroes who attend Hero High and partner with DC Comics' Captain Marvel to fight crime.
The animated adventures were introduced by live-action actor counterparts of the animated superheroes, in a variety-show-like setting, performed in front of an audience of cheering kids. Watching it today, it all feels…so…Saturday morning.
Another show that had an authentic Saturday morning vibe was Hanna-Barbera's Space Stars. The show was a compilation of science fiction-themed cartoons, including new episodes of the studio's Space Ghost and The Herculoids. Teen Force, also on the show, centered on three teenagers from an alternate universe, who each possess unique powers.
There were also the Astro and the Space Mutts segments on Space Stars. Also seeming to come from another universe within the show, this comedic segment focused on The Jetsons' dog, who now was fighting crime in outer space with the human Space Ace and two other canine sidekicks, Cosmo and Dipper.
However, Hanna-Barbera's biggest hit in the fall of 1981 was The Smurfs, which also debuted on NBC. Inspired by the phenomenal popularity of the characters created by cartoonist Peyo, The Smurfs were also featured on almost every piece of merchandise at the time. Beloved by an entire generation, The Smurfs not only became one of the iconic symbols of the 1980s but also became one of Hanna-Barbera's most successful shows, running on NBC through 1989.
Peyo served as a story supervisor for the series, which helped make it a hit with the already built-in audience, winning the Emmy for Outstanding Children's Series and becoming one of the longest-running Saturday Cartoons. And, of course, there was the memorable "La-La-La-La-La-La-" theme song!
And now, as Christopher Cross crooning Arthur's Theme, fades out on the radio, we leave 1981. But grab another bowl of cereal and come back next week for one more column, as we head back one more decade to Saturday mornings in 1971.