Ah, back-to-school time. That time of year when, for many kids, the dreamy summer gives way to the dreaded return of days filled with spiral notebooks and nights filled with hair-pulling homework.
For several generations, there was relief for this experience that upended so many kids' lives. That was because the new school year also meant the start of the new Saturday Morning TV Season. With this came the excitement and hope of the brand-new cartoon shows we had been teased with all summer.
This first of a three-part article takes a nostalgic trip back thirty years to the Saturday Morning Cartoons that debuted in September of 1991. At that time, thanks to VHS, Saturday Morning television would soon struggle to keep a foothold and would slowly phase out throughout the next ten to fifteen years.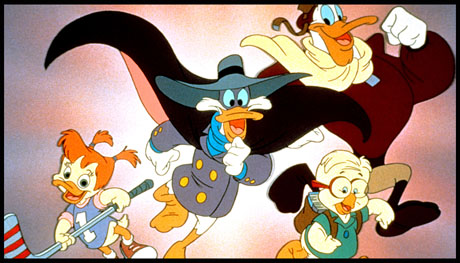 But in 1991, all the major networks were still in the Saturday Morning game. Let's take a trip back in time, as we came out of the summer in which Terminator 2 ruled the box-office, and Tim Allen was about to debut in Home Improvement. Here are the new animated series that premiered on Saturday morning that year:
ABC
For years, the words "television animation" and the name "Disney" didn't exist together. But all of that changed in the late 80s and early 90s, as the studio synonymous with theatrical animation found success in television. One example of this premiered in September of 1991 with Darkwing Duck.
A now beloved show for an entire generation relayed the adventures of the title character, a fowl superhero. His mild-mannered identity as Drake Mallard and his catchphrase, "Let's get dangerous!" was a clever parody of the genre.
Darkwing Duck became an icon for the '90s, as did rapper M.C. Hammer, who got his animated show Hammerman in 1991. On the show (produced by DIC animation), the singer provided the voice for the main character, who becomes the titular superhero when he puts on magic shoes. Oh-so of its time and also a call back to the '60s and '70s when many celebrities inspired Saturday morning cartoon counterparts.
Also on ABC in the fall of 1991 (after debuting on Fox in February that same year) was Hanna-Barbera's The Pirates of Dark Water. From David Kirschner, who had co-written the story for 1986's An American Tail, this show looked to create an in-depth, science-fiction universe of Mer, where characters battled to find a lost treasure. Pirates of Dark Water also boasted an impressive, all-star voice cast, including Tim Curry, Hector Elizondo, Brock Peters, Jodi Benson, Jim Cummings, Frank Welker, and Peter Cullen.
---
CBS
Over at CBS, there was inspiration from the daily newspaper with Mother Goose and Grimm, based on the comic strip by Mike Peters. The show was produced by Phil Roman (who had brought Garfield to television) and Lee Mendelson (most famous for the Peanuts specials), both very familiar with translating comics from page to screen. Mother Goose and Grimm retained the look of the comic strip and made it work well in animation.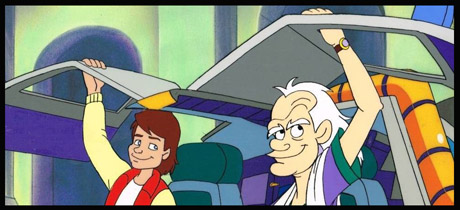 One of the most successful film series of the 80s had just wrapped up, which led to the animated Back to the Future debuting on CBS in the fall of 1991. The series acted as animated sequels to the film trilogy, mainly focusing on Doc Brown and his family. Christopher Lloyd returned as Doc Brown in live-action segments introducing the episodes, with Bill Nye also appearing to teach a quick science lesson.
Like Back to the Future, Where's Waldo is another icon of its time that also spawned an animated counterpart, based on a series of popular children's puzzle books, readers would have to find Waldo in a drawing depicting a crowd or large scene.
Produced by DIC Animation, Where's Waldo, the series went beyond the puzzles, sending Waldo and his pet dog Woof on different adventures.
---
FOX
Fox also turned to movies in September of 1991 for Little Shop, based on the movie musical, Little Shop of Horrors (which, in turn, was based on a Broadway musical, which in turn was based on a cult film by Roger Corman, who served as a consultant on the show).
While still focusing on a giant, man-eating plant, Little Shop, produced by Saban and Marvel Entertainment, used stylized animation and tamed down the story's darker elements, making Audrey Junior a "friendlier" plant. Seymour was now a young adolescent "science nerd."
Classic Warner Brothers characters also made a comeback on Fox in '91, with the debut of Taz-Mania. Coming on the heels of Tiny Toon Adventures and Animaniacs came this series about the Tasmanian Devil and his family (parents, siblings, uncle, and pets), along with a wide and wild array of supporting characters.
The show came with brilliant voice work (particularly by Maurice LaMarche), clever writing, and an earworm of a theme song.
---
NBC
On NBC, Nintendo's immensely popular video games came to tv screens with Super Mario World, produced by DIC. Based on the video game of the same name, the show followed the adventures of Mario and Luigi and the strange, inventive world they live in that was not only so prevalent but also so ripe for animation that this was the third iteration of the video game for TV.
Also on NBC this season was Wish Kid. The title character, Nick Clary, is granted magical powers and can wish for what he wants, thanks to a shooting star that struck his baseball glove. What was unique about Wish Kid was that it featured one of the biggest stars of the 1990s, Macaulay Culkin, who provided the voice for Nick, and the character was modeled in his likeness.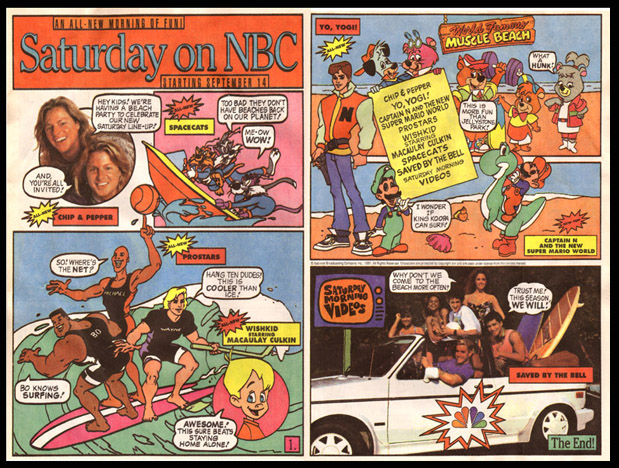 Other 1990s icons – sports icons – were featured in Prostars. The show featured an animated version of hockey great Wayne Gretzky, basketball legend Michael Jordan and Baseball and Football star Bo Jackson, who were transformed into high-tech, crime-fighting heroes in episodes that each came with a message behind it. The sports icons appeared in live-action sequences introducing each episode.
If that isn't "high concept" enough, how about Space Cats? From the mind of Paul Fusco (Alf) came this series about three intergalactic felines who come down to earth to help humanity. The series featured both animated and live-action segments with puppets. Want more? Charles Nelson Reilly was also on the show!
The most 90s example of "90s-ness" debuted this season on NBC with Hanna-Barbera's Yo Yogi! In this re-imagining of the studio's familiar faces, Yogi, Boo-Boo, Cindy, Huckleberry Hound, Snagglepuss, and others are teenagers who not only hang out at the Jellystone Mall they also fought crime.
This would mark Yogi's (and many of the other characters) last TV appearance until this year's Jellystone. The following year, in 1992, NBC decided to go with an all-live action scheduled for Saturday mornings and a weekend edition of The Today Show.
So, while Yo Yogi! Is often smirked at, the show not only acts as a great "time capsule," but it also sadly marks the beginning of the end of an era of Saturday morning cartoons.
And so, as Paula Abdul fades out on the radio, we leave 1991. But get ready to refill your cereal bowl and return next week to look back at some Saturday morning memories from ten years earlier in 1981.